A year has gone by.
This is what spouses think when the date of their first anniversary nears. 365 days have gone by in a flash, and so many things happened in the meantime. The ceremony, the reception with friends and family, the honeymoon and then, perhaps, moving in together in a new home, living side by side every single day and all the daily challenges of a married couple's life.
It may seem like just one year, but it's one full of significant moments.
If the couple is still together, it's just the beginning of a life together and a shared plan, so it can be nice to turn back time to the wedding day and enjoy it once again. Although it's just a short time since that wonderful day, it's worth looking back from the perspective of a married couple, with smiles in their hearts and minds full of plans. And while the most romantic spouses may decide to celebrate their first anniversary with just one another, it's always nice to pay a tribute as a close friend or relative.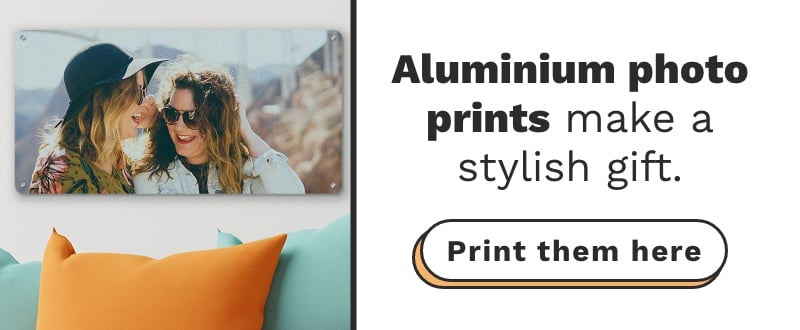 The paper anniversary is the foundation stone of a life the spouses will build together year after year. To celebrate this occasion, you can organise a surprise party, and share some of their fondest memories of that day together. Pictures, videos and stories told by friends and relatives will help create the perfect mood. If you want to make their paper anniversary unforgettable, you can also offer some personalised presents as a small but very much appreciated gesture.
The spouses will most likely have what they really need for their home, so we suggest you offer a customised gift of emotional and symbolic value. We've put together some suggestions to help you choose a fitting present.
Paper anniversary: some suggestions to celebrate the first year of marriage
Here are some examples of high-quality printable products you can turn into the perfect gifts for the (almost) newlyweds:
Paper anniversary presents: a framed canvas print
Are you looking for the perfect paper anniversary gift? Check out our canvas prints!
What could be better than one or more canvas prints with the most romantic moments of the wedding ceremony to make the spouses' hearts race? Just imagine their reaction when they receive the canvas print of the two of them exchanging wedding rings, the smiles on their faces walking out of the church, the confetti raining down on their heads and the couple in the car heading to the reception.
You could also select some of the best pictures taken after the ceremony, perhaps at the reception or on the honeymoon. These are the perfect memories to turn into a gift for the couple by printing them on a framed canvas. There is no better gift to decorate their home and remind them how lucky they are to have each other.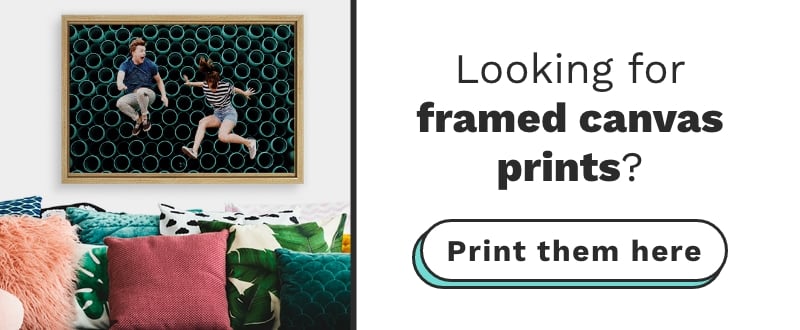 Try to picture the moment: the spouses arrive at the surprise party you organised, and are taken aback by the big crowd gathered for what was supposed to be an intimate dinner with friends. Your remind them what happened one year ago and you start to share your fondest memories of that day. Then, after a funny story, a video and some pictures, out comes the gift in a big, bulky package.
The present is the size of a real painting and everyone is dying to see what it looks like. That's what a canvas painting is: an intriguing, magical gift that stirs emotions even before unwrapping. A special gift, perfect for celebrating a paper anniversary.
All you have to do is give it to the happy couple and watch their reaction.
Paper anniversary presents: a lovely gift for so many lovely nights
Are you looking for a comforting gift for the couple?
What about a personalised cushion?
Think about it: after the surprise party you organised for their paper anniversary, the couple go back home for the night. It's been a lovely day full of emotions, surprises, fond memories, smiles and maybe some joyful tears. Before a well-deserved night's sleep, they still have one last memory to enjoy, printed on the personalised cushion you gave them.
It's a tender memory, with a funny or maybe an emotional picture taken right before or after the celebration, with the newlyweds smiling after having said "I do". Now, this memory will be forever with them thanks to their soft, personalised cushion that's perfect for their bedroom. It will keep alive the memory of their friends, their relatives and their loved ones who, one year later, shared the magic of that unforgettable day once more. Their new cushion will be a reminder of not only their love, but the love surrounding them.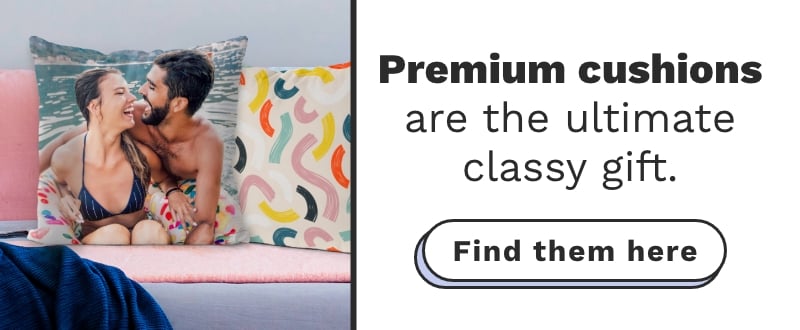 It's important to select a suitable picture and message to print on the cushion for their paper anniversary gift. It should touch their hearts! It could be a full-length photo of the newlyweds or maybe a detail, like their fingers wearing their wedding rings, accompanied by a quote from their favourite film, book or song. The main thing is to wow them.
Select the picture and the message to print on the personalised cushion, upload it to the Gifta website, check the print preview and complete the order for your present for their paper anniversary! The cushion will bring back fond memories, reminding the couple of that unique moment and the love of those giving such a wonderful present.
Paper anniversary presents: customised print on aluminium.
A picture should be like the memory it portrays: vivid, shining, unforgettable.
So why don't you have the couple's best memories printed on aluminium?
Celebrating their paper anniversary with an aluminium print is touch of class!
You can choose the size of the pictures you want to reproduce, taking their quality to a whole new level. Through its effects on the human eye, aluminium adds gravitas to pictures.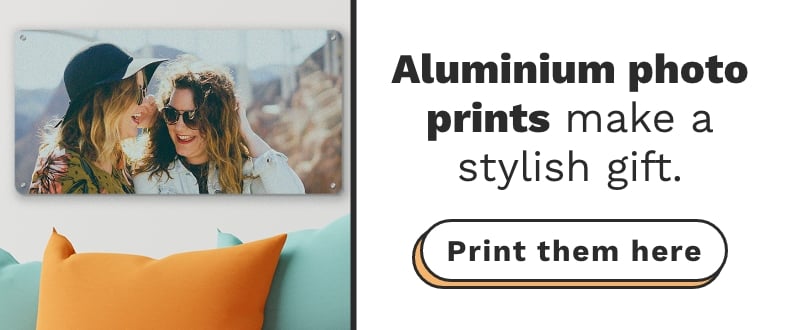 It's a luxury present, made of a material that is not only shiny and durable, but offers a unique colour rendition. You'll be amazed to see it printed with picture and message for your friends celebrating their paper anniversary. Aluminium will make your gift look like a premium object, an item made of valuable material designed to do justice to the couple's fondest memories.
Our customised aluminium print is the perfect gift for a couple's paper anniversary, evoking fond memories in modern style. It's ideal for celebrating their first wedding anniversary and paying tribute to the (not so) newlyweds with an item that will stand the test of time. A special gift to celebrate their love after the first, exciting year.
Paper anniversary: find the best customisable gifts on the Gifta website
Are you still looking for an idea to wow friends or family celebrating their paper anniversary?
You're in the right place! Visit our Gifta online store and discover the many ways to surprise them with all sorts of customised presents. If the gift you're looking for is not among our suggestions, just browse our website to find the one perfect for you. Choose the material you prefer, upload the photo and the message, check the preview and hit the print button: the perfect present is on its way, courtesy of Gifta!