Your bedroom is the most intimate space in your home , the place where you hide away from the frantic rhythm of everyday life. So, if you want to make the most out of it, you need to find the perfect balance between style, character and practicality.
Are you looking for tips or suggestions to decorate your bedroom and refresh its look? If so, you're in the right place: we've put together some simple but stylish ideas that don't need any structural modification to help you create the perfect room for getting away from it all!
Life is full of an often-daunting number of choices, but our suggestions will help you make the right decisions when creating your oasis of calm.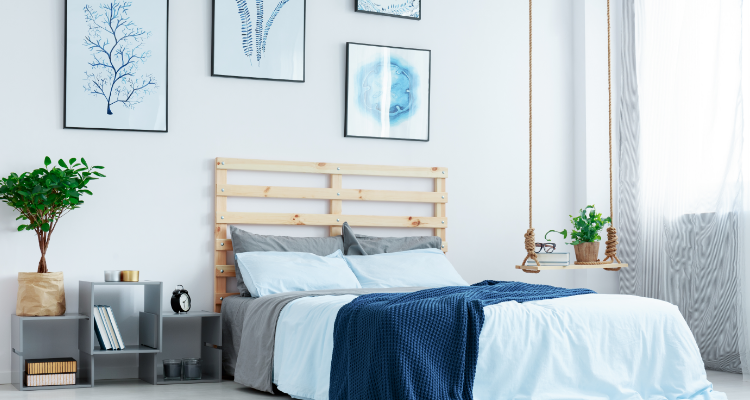 Let's get started!
SHOW YOUR TRUE COLOURS
Let's start from the basics: choose the colour for your room!
Think of the colours you love most, the ones you wear every day and make you feel most comfortable. Play with contrasts: if the floor is dark, then paint your walls of a lighter shade. Or vice-versa: if the floor is bright, try a darker shade for your walls. If the room is quite large, you can try an accent wall in stark contrast with the soft shades of the rest of the room.
Why not opt for wallpaper? It's bang on trend!
There are some stunning designs on the market, but if you don't find one that suits you, create your own. Print it with a decoration of your choice and have it delivered right to your door.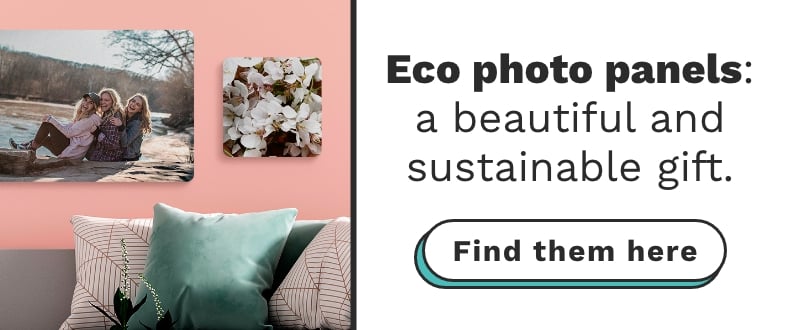 THE KING OF THE BEDROOM (AND NOT JUST IN SIZE): YOUR BED
The bed is the true centrepiece of your bedroom, but don't worry, you don't need to choose the latest design: you just need to sleep well on it. So, choose a practical, comfortable model (and be careful when you choose the mattress!). When it comes to aesthetics, you can always unleash your creativity with blankets and pillows.
Think of your bed as a blank canvas on which you can repaint anew every time you change your bedclothes, refreshing your pillows and duvet cover. You have many options to dress your bed to match the style of your bedroom. But be careful: you can't pair a blanket with a floral pattern with an industrial style room… or can you? Be creative, break the rules, but show some taste!
We can help you to choose the perfect pillow with our personalisation service: you pick out the design you prefer from our database and we print it on our soft and silky washable and removable pillowcase. You can even print your favourite photos on it and have it delivered to your door!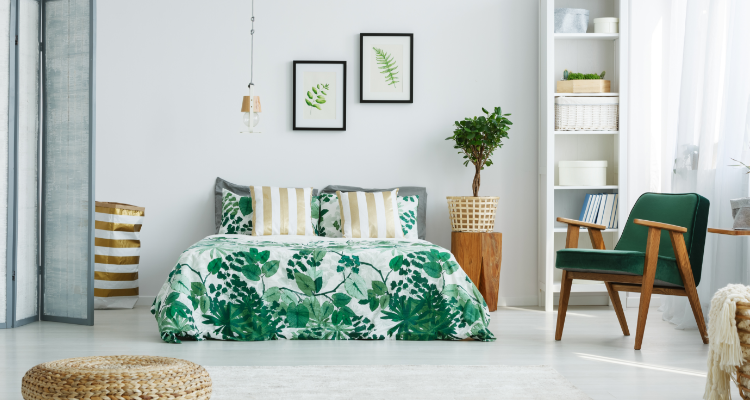 RESTFUL LIGHTING
A practical yet atmospheric way to decorate your bedroom is to diversify your lighting systems. Having more than one source of light will make your life easier and will make your bedroom look unique.
In addition to the ceiling light, you can use other light sources: for example, you can emphasise the wall behind the bed with some spotlights, maybe with a soft glow. Or position some floor lamps or unique wall lamps either sides of the bed, or perhaps a bedside lamp on your nightstand. You can even change your decorations into functional furnishing elements.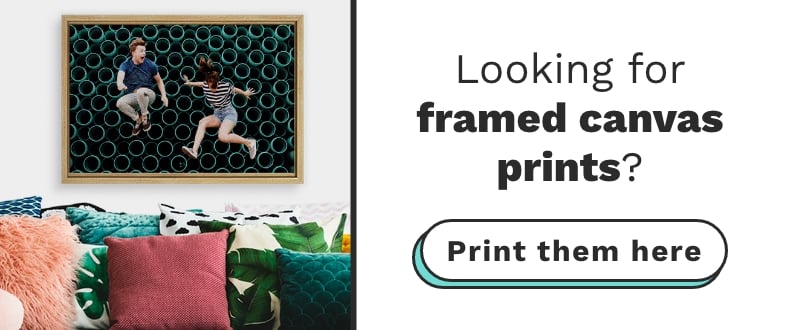 CHOOSE YOUR FURNISHING ACCESSORIES
The right furnishing accessories will allow you to personalise your sleeping quarters, making them a comfortable and all-embracing sanctuary. Just a few, carefully chosen accessories will create a warm atmosphere that will make your bedroom a special, secret hideout. Let's check out together some of the best:
– A mirror is a gorgeous accessory that will help you make your room look deeper. You can choose to put it on the floor or hang it on the wall. There are mirrors for every taste: modern, classical, baroque, colourful or uniquely shaped.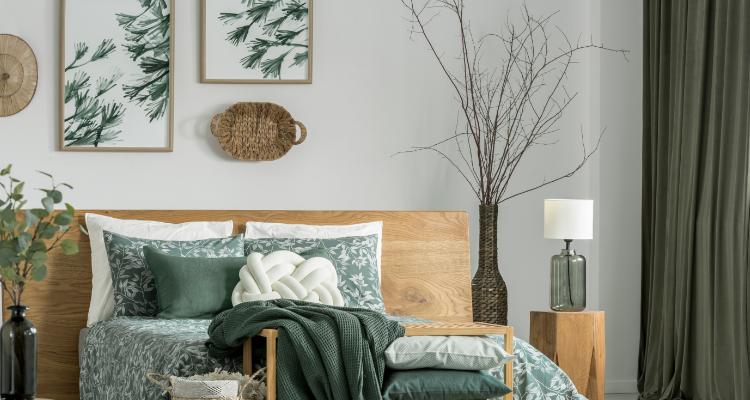 – Chairs, armchairs and sofas are comfy and useful: not only can you can rest on them and enjoy your room in full daylight, you can lay your clothes on them too. There are many different designs out there: modern and minimal or more complex and intricate.
– If you want some privacy after a long and stressful day, you need curtains. You can also use them to control the natural lighting of the room.
Your curtains should match the style of the room: if it's not too bright, you can vary the degree of transparency by choosing light fabric in bright colours. If the room is already full of accessories, you can choose monochrome curtains so as not to make the environment too busy.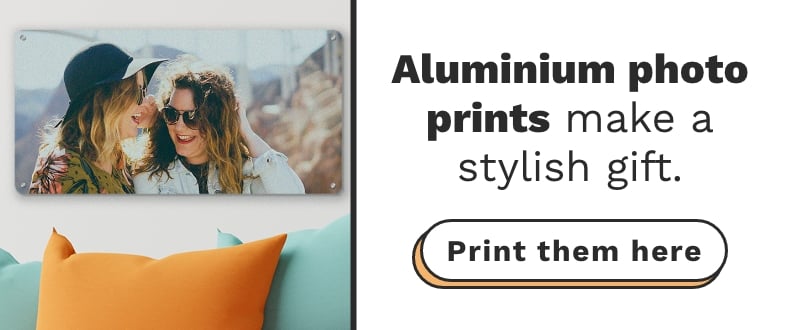 – How cosy is a room with a fireplace? If you're not so lucky to have one, you still can make fire dance for you with some candles for a relaxing atmosphere.
– Prints and paintings hung on your walls are cheap yet stylish solutions to quickly refresh the look of your bedroom. Got many ideas and no clue on how to make them real? Don't worry, it's easy: you can do it from the comfort of your sofa, or even lying in bed. Select the perfect pictures to give your room that unique touch you were looking for, then just wait a few days for them to be delivered to your home. You can choose between posters with or without a frame, canvas, photos on ecopanels and much more.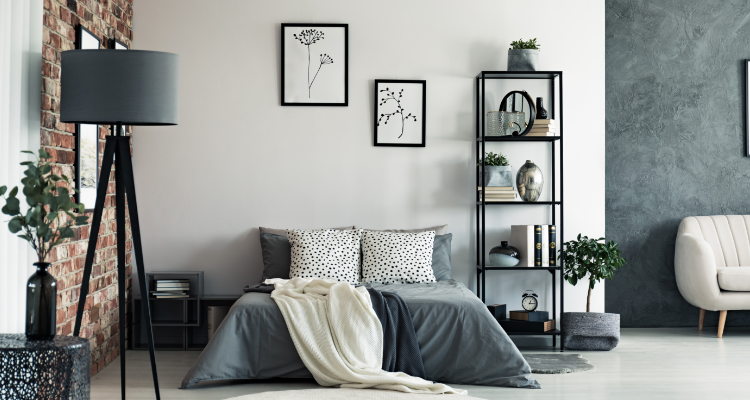 Last but not least: your houseplants!
Wait, don't turn up your nose like that! You can keep plants in your bedroom without any hazard for your health. The quantity of carbon dioxide they produce is so low it won't harm you (as long as the number of the plants is proportionate to the room's size).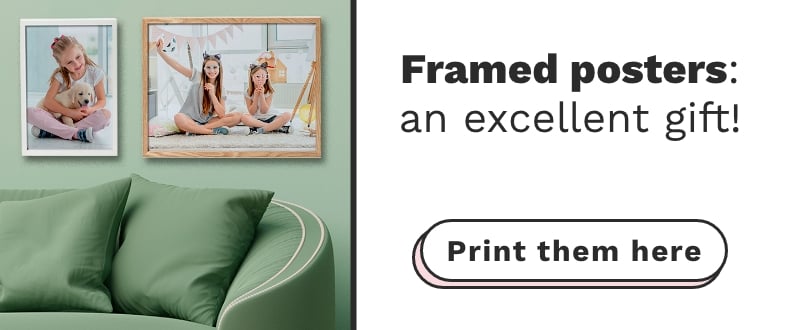 In fact, they improve the quality of the air you breathe. A single plant is all it takes to change the mood of your Room.
Are you ready to decorate your bedroom?
Seeing your ideas become reality is so satisfying, just you wait!