Diamond wedding anniversary: how to celebrate such a wedding anniversary
A love that lasts a lifetime.
Deep down, who wouldn't want that?
And sometimes it happens! Some couples manage to reach that milestone of 60 years of marriage, which corresponds to their diamond wedding anniversary. What an event! It's not easy to reach such an important milestone so when two people do, it deserves a proper celebration. Older married couples probably won't want to organise a huge party, so the onus will clearly fall on their children, grandchildren and relatives.
A diamond wedding anniversary is not just a special moment in life but also a unique occasion for the two people to look back over the highlights of the decades they've spent together. It's the perfect excuse to remember (and why not recreate?) situations, places and anecdotes from the couple's 60 years of marriage. The ideal thing to do is organise a surprise party for the couple, where all they need to do is take part and enjoy all the affection from their relatives and friends.
And what better occasion than this to give the couple symbolic gifts that are touching, meaningful and memorable? When they reach this incredible milestone, it will mean more to the couple to relive the happiest or most exciting memories of their lives together rather than receiving expensive or "material" gifts. That's why we've selected several diamond wedding anniversary gift ideas to delight the couple and remind them of their adventures and the personal and social changes that they have experienced in those 60 years.
Diamond wedding anniversary: gift ideas and inspiration to celebrate the couple
Here are some examples of diamond wedding anniversary gifts you can choose to honour the solid couple:
Diamond wedding anniversary: a framed canvas photo print
The canvas print is an ideal gift for a diamond wedding anniversary.
Imagine the moment you see the unbreakable couple again with their children and their families, their grandchildren and their friends. You're gathered in celebration and the couple remember you and the anecdotes that have marked their long marriage. At some point, a grandchild arrives with a gift packaged in quite a large box.
It looks the size of a wall print and people can't wait for it to be opened to see what is printed on it. This is what a canvas print is: a gift that sparks curiosity, creates excitement before it's opened and then displayed at home. An ideal gift to celebrate the couple's diamond wedding anniversary – and one that offers countless possibilities.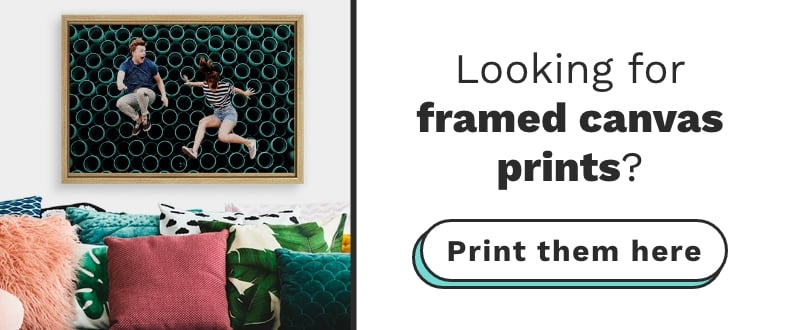 Indulge in searching for photos!
You could dig out old photos of them when they were young, in colour or in black and white.
Or you could use an amazing group photo of their family and friends out in full force, which celebrates the couple in front of a place that's particularly important to their family history or to the couple's history. Or you could even use a photo of a specific location. Be inventive and patient when looking for photos and then upload them to the website, choose the dimensions of your canvas print, check the preview and order your canvas print.
Then you can hand it to the couple celebrating their diamond wedding anniversary and watch their reactions!
Diamond wedding anniversary: a cushion with a message to gift the couple a happy memory
A diamond wedding anniversary gift that's all sweetness and light?
A personalised cushion, of course!
Imagine the couple heading to bed after a long day full of memories, emotions and catching up with friends and family. A day of celebration, tears and smiles that is coming to an end. It's a time when the couple calm their thoughts and get ready to go to sleep, comparing stories of their day.
That's when the personalised cushions you bought them will catch their eyes on the bedside table or bed, ready to carry their soft and tender memories even while the couple get their well-deserved rest. Those personalised cushions are the gift you gave them!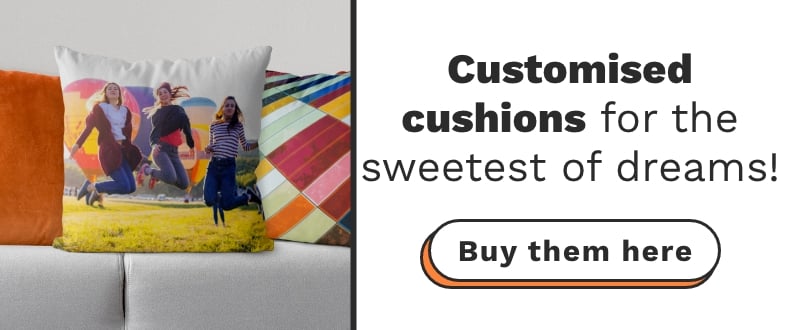 So, the photo, image or message that you choose to print on the cushions for the diamond wedding anniversary really make a difference. It should be relevant to this important event and touch the couple's hearts.
Choose the image, photo or message to print on the personalised cushions, upload it, check the print preview and order your diamond wedding anniversary gift! You can be sure that the personalised cushion will remind them of sweet memories, their happy times and the consideration and affection of the person that gave them this lovely gift.
Diamond wedding anniversary: personalised aluminium prints to celebrate the couple
Bright, scintillating and unique images.
Why not print photos and iconic images of the couple on aluminium?
When it comes to diamond wedding anniversary gifts, an aluminium print is sure to stun.
You can spark emotions with photos and images reproduced in your preferred format, taking the quality and yield of the image to another level. Aluminium's structure and consistency make printing on this material particularly elegant and "important".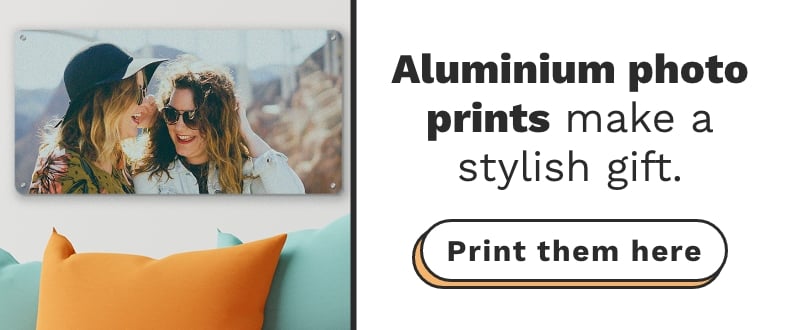 The effect is like a luxury gift, made from a material that is not only solid, shiny and durable but the colour yield is captivating after printing your image, photo or text on it. The sophistication of the metal reflection and its silver colour means it will get noticed wherever it's placed in the house, like a premium gift. Particular care is taken over the printing, both in terms of the material and the print quality with a view to the final yield.
It's a harmonious gift to celebrate the couple's diamond wedding anniversary as they deserve, with a thoughtful, decorative present that leaves its mark, day after day. A gift that evokes memories and catches the eye with tireless patience. What a way to pamper the couple and celebrate their happy union after 60 years together!