Gifts for mum: surprise your mum with these gift ideas
"The apple of my eye"
It's a lovely phrase reflecting how much a mother cares about her children, running herself ragged to look after them, making sacrifices and dedicating her life to them. That's why it's always a good idea to thank your mum on her birthday or Mother's Day, preparing a wonderful surprise for her. We've been used to getting gifts from her for years so now any occasion is a good chance to pay her back!
Every mum hugely appreciates thoughtful gestures from her children, whether they be messages, letters, words or gifts. And it's gifts we're going to talk about in this article, where we'll point out some gift ideas that are sure to be effective, designed to pay tribute to your mum, bring a smile to her face or a tear of joy or gratitude to her eye. The key word is: personalisation.
That's right, because anyone can give a standard gift but few people put the time and effort into going that step further and giving a personalised gift. And it's that small act that makes it such a special gesture for a mother. Below, you'll find some gift ideas for mums to choose from. To make a good impression and thank her for all she does!
Let's get started.
Gifts for mum: some ideas
Here are some examples of gifts for mums to inspire you:
Gifts for mum: Framed photo canvas print
Of all the most effective gifts for mums, this is at the top of the list.
Mums always appreciate photos, it doesn't matter whether they're recent or old. Each is filled with memories and emotions that warm the heart. You could find a photo of your mum when she was young, print it on canvas and frame it. Because everyone, including mothers, look back on their youth with a smile. Or you could find a lovely photo of you and her, perhaps on a special occasion like a day at the seaside, a formal event or an experience you had together, like your graduation that she was so proud to attend. Or you could print a beautiful photo of her and your dad looking radiant.
You'll be spoilt for choice!
The important thing is to choose the right photo, then you can quickly upload it to our site, select the size of your canvas print, add a beautiful frame and you're done! A timeless gift idea for your mum, and with that vintage charm that digital photos viewed on a screen can never achieve. Your mum will then be able to hang it up at home or rest it on a bedside table, a shelf in the living room or in her bedroom.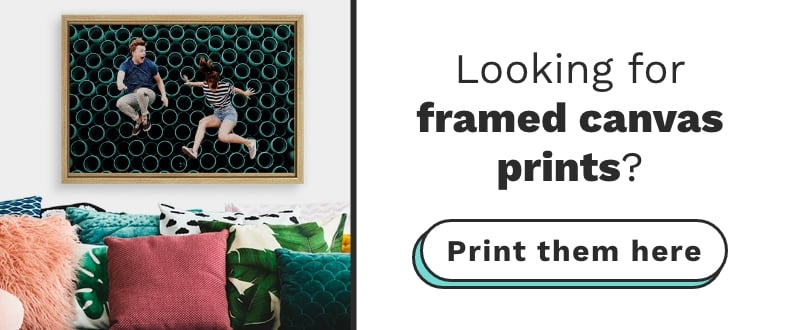 Gifts for mum: a soft cushion with a message on
How much work does a mother do? A lot!
Legends say that mothers can clone themselves to get all the small and big jobs done every day. Work, family, household chores, minor setbacks, cooking, taking the kids to play sport, finding time for their friends and passions…
How they manage to do this, nobody knows.
But we do know that giving her a lovely, personalised cushion with a photo or message on is an excellent way to make her feel pampered when she finally gets to rest during the day. You can choose from two types of cushions (standard or premium), select your preferred photo or text, print it on the cushion and your gift is ready. All that's left for you to do is give it to your mum so she has a tender thought to keep her company in those rare and precious moments of rest in her jam-packed day! A great way to recognise everything a mother does.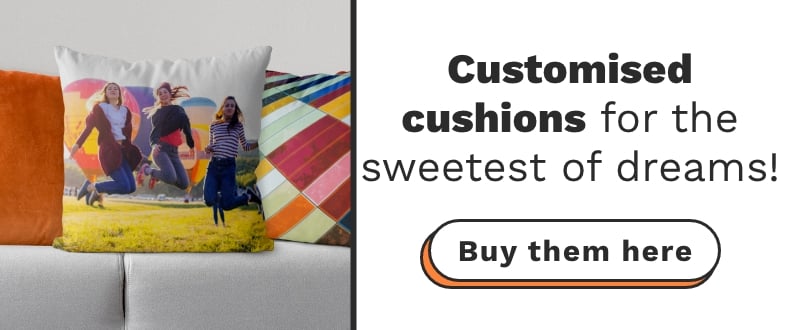 Gifts for mum: a personalised backpack
Maybe you don't realise but when your mum leaves the house she always has plenty of things in her hands.
House keys, car keys, phone, notebook, card holder, key ring, chewing gum, a comb, a small make-up bag with a compact mirror, the list goes on…
As well as her precious collection of bags and purses, a backpack could be really useful to her. It could help her get well organised and navigate between a bag, backpack and pockets, carrying on her back everything she needs for another busy day. So, why not help her by gifting her a personalised backpack?
It really is an ideal gift: it holds everything she might need, offers extra space and more, and will always remind her that it was a gift from you because of the message or photo you print on it. It will be as though you are with her in her thoughts as she goes about her daily tasks at home, work or in the car. It's a kind way to help her on her outings and show her you love her.
Basically, an unexpected gift with a lot of potential in terms of practicality and showing her you care!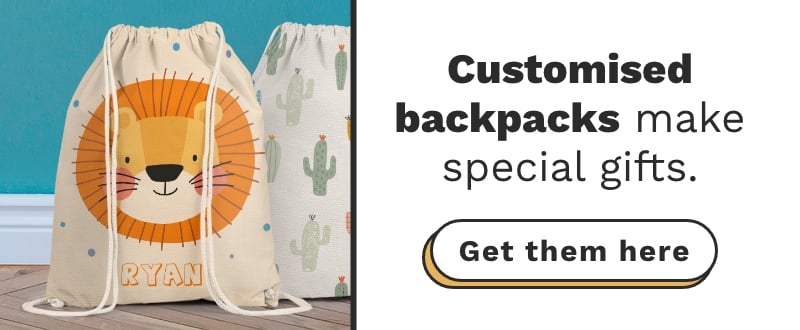 Gifts for mum: find the best at Gifta
Now that you have some ideas for the best gifts for mums, why not take a look at Gifta? On our website, you can personalise the gifts to meet your needs and get smart and effective ideas to celebrate your mum in style! All you need is a photo, a message and touch of creativity. Job done! You'll be spoilt for choice…
Discover the best gifts for mum here.