Home gifts: refresh a home with these gift ideas
Home sweet home!
How many times do we say it?
Home welcomes us when we get home from work, it protects us while we rest and sleep, it offers us a private place for our hobbies and free time. Home watches us grow and evolve, and embraces us and the people we love. So, how can we keep making it even more "ours"? What gift can we give to our home?
Personalised home gifts, of course! To make it even more a part of us, our aspirations, habits and likes. These are home gifts that really work: gifts that make it more familiar, warmer, more aligned with our personalities and temperaments. That's why the best home gifts are those that change its appearance, add colour to it or that unique touch that we all have inside us that is just waiting to be expressed.
When put in the right place, the best home gifts can liven up a room, even giving it a totally different look, a burst of unexpected energy or an extra dose of Zen calm. And the good thing is, with the home gifts we've selected for you, you can achieve those results without spending too much. So, are you ready to choose from the most effective and impactful home gifts?
Let's look at some examples of effective home gifts.
Home gifts: gift ideas and inspiration to refresh your home at the touch of a button
Here are some examples of home gifts you can choose from:
Home gifts: a framed canvas photo print
The canvas print is an ideal home gift for any time of year.
The canvas print is an excellent home gift idea and offers various advantages, which we will cover now.
It's highly customisable: choose your photo, text, photo collage or composition to apply to the canvas print. It could be a seascape, a film poster, a screenshot of a videogame, a photo collage, a message or a high-definition photo taken on holiday. The possibilities are endless.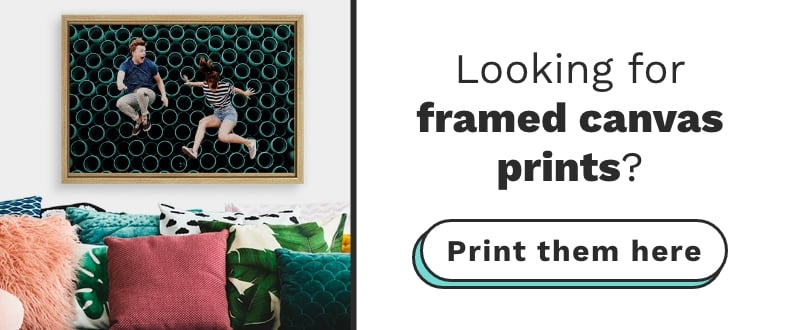 With a canvas print, you can gift (or gift yourself) an item that adds tons of personality to the room where it will be placed. As there are so many different sizes, you can decide where you want to put it, assess the space available and choose the right sized canvas print.
A canvas print is a gift with a high visual and emotional impact; it will make you look good, as well as your home and the homes of any friends and family you gift it to. Make sure you choose a photo, image or collage that will be liked, select the print dimensions, choose whether you want to embellish it with an elegant frame, et voilà!
Your home gift is served.
Home gifts: a soft cushion with a message on
How about a personalised cushion?
It's an original and very popular gift for the home.
A home always needs cushions in almost all rooms: from the living room to the bedroom, the kids' rooms and the office. A personalised cushion always finds its place and can be used in different ways throughout the day.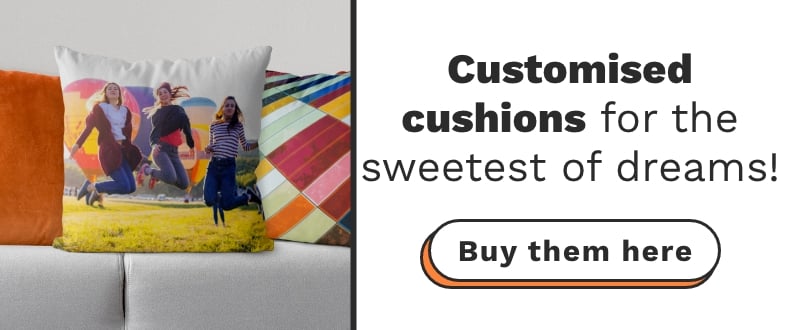 It can make a working-from-home day cosier and more comfortable or assist during a home Pilates session, or it can help you relax on the sofa while watching TV or in bed before you go to sleep.
All you need to do is choose a photo, written message or image to print on the cushion, check the preview and place your order. Another great gift for the home guaranteed!
Home gifts: a personalised foam board print
What else is there besides canvas?
Foam board: an elegant plastic material that works well for home furnishing accessories.
Canvas shows wood, frames and fabric, but you might want something a bit different, a more modern touch of personality that highlights another material. If so, foam board is an excellent alternative. Maybe to print a photo of an urban cityscape, a sci-fi scene or a starry sky, for example.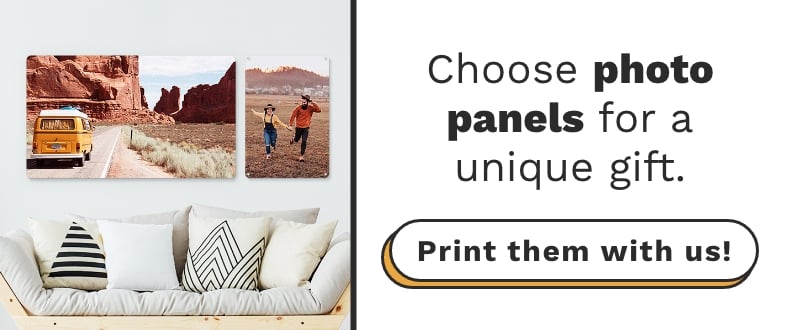 You might want a more modern home gift to put in a house with avant-garde lighting, a futuristic style and materials in matt hues. In this case, foam board could be perfect for you, to embellish the room with that special piece that will make it welcoming and unforgettable. With this material too, all you need to do is find the right size, choose your image and upload and print it! Another home gift idea ready to turn heads.
Home gifts: a touch of colour and personality
Here are some examples of home gifts that add a touch of colour and personality. The best advice is still to understand the homeowner's style and passions and what would fit perfectly with the colours and themes in their home. You should find out who lives there and what their home is like, then it will be easy to find the best matching gifts to brighten up walls and rooms in their home. Choose yours now