Teacher gifts: surprise your teachers with these gift ideas
What gift to give a teacher at the end of the year?
What gifts to buy teachers is a delicate subject. Sometimes we want to show recognition for this profession that is so important for the education and growth of our children. And when we meet teachers who are so valuable on a human and professional level, we may want to thank them with a gift that shows our appreciation for them and their contribution.
As teachers have a responsibility to all the children in their class and the parents, we want to give them gifts that recognise their worth but are not of poor taste or show preference or create trouble between parents, the students or the teachers themselves. That's why it's good to be a little careful when choosing gifts for teachers.
Our first tip is to give "communal" gifts, if possible.
Meaning gifts from the whole class or the majority of the class. There are two good reasons for this. The first is to involve the whole class, including all the parents and their children, without excluding anyone and creating any discontent due to favouritism towards some teachers over others. The second is that it shows that the teacher's work is appreciated by everyone, because it is a collective gift, so it enhances the meaning and value of the gift, showing that the teacher's professionalism is widely acknowledged.
After these tips, we'll look at some examples of possible gifts for teachers.
Gifts for teachers: some inspiration and gift ideas
Here are some examples of gifts for teachers you can choose from:
Gifts for teachers: a framed canvas photo print
Of all the most effective gifts for teachers, this is definitely near the top of the list.
If the relationship between the children and teachers is especially peaceful and fruitful, why not give them a canvas print of the last photo taken of the teacher with her class? It's a nice way to show your recognition and gratitude to a good teacher, reminding them how much the children and parents appreciate their excellent work.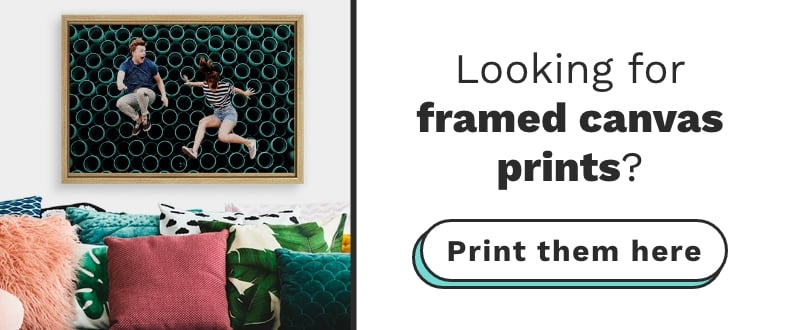 It's a gift that can't be interpreted badly because it expresses pure recognition, and if it's given to the teacher by the whole class, the teacher is sure to accept it graciously. Then, one day, they'll have another reason to remember that class that they got on with so well, personally and professionally.
You can simply find a photo of the teacher and their class, choose the print dimensions, decide whether to add a frame to the canvas to make it more elegant and then print it. The class gift for the teacher is complete!
Gifts for teachers: a soft cushion with a message on
Make the teacher tired! Let's not beat around the bush.
Teachers need a lot of energy, attention and physical stamina. It's a job requiring responsibility and balance. That's why a personalised cushion could be a good gift idea to help the teacher relax at the end of the day.
Just imagine, after a tough day with the children, after marking their homework, it's finally time for them to relax in the evening. That's when a lovely, personalised cushion with a class photo on or phrase or message of thanks will come in handy for the teacher. It will remind the teacher that their work is appreciated and recognised by the parents and kids, and make them smile while they have a well-deserved rest.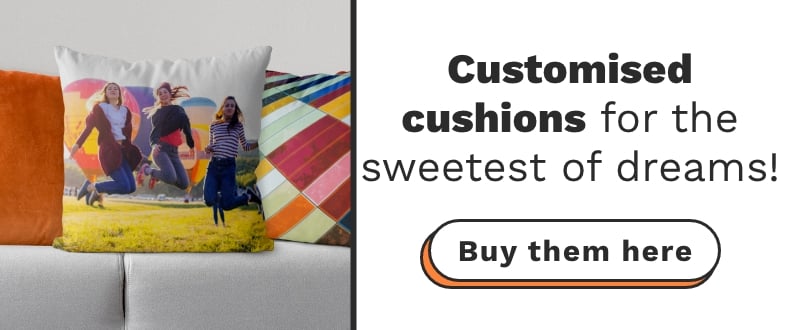 You can choose a standard cushion or the premium cushion with special finishes made from a more solid and higher quality material. The important thing is to personalise it with a photo, message or phrase for the teacher and give it to them on behalf of the whole class, which is the best way to give a gift to a teacher without upsetting anyone.
Gift for teachers: a personalised backpack
Another useful gift for a teacher? A personalised backpack.
Teachers have action-packed lives: between lessons, travel, hobbies, school commitments, household chores and leisure time, they have to navigate a frenetic pace of life. To help them manage their time effectively on long days, a personalised backpack could be a useful and appreciated gift idea.
A backpack is always well received by everyone because, despite the digital dematerialisation of some products and services, there are lots of products that can't be replaced, like a backpack, which will always be needed to hold, carry and organise items. Plus, this backpack can be personalised with a photo, text or message to the teacher, so the gift can be even more touching.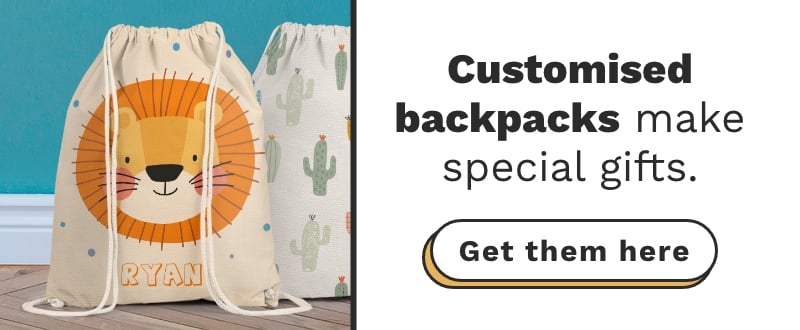 Again, the key is choosing a photo or message that gives thanks from all the children and parents, personalising it with the right print. The gift is sure to be used proudly and appreciated by the teacher. It's a safe bet!
Gifts for teachers: find the best personalised gifts at Gifta!
Now that you have some more ideas of what to gift your teachers, you can extend your search on Gifta and discover loads of other options. The important thing is to give them something personalised, which can't be given to them by anyone else. That's what makes gifts special, memorable and appreciated by teachers! Happy hunting!